手动对夹式通风蝶阀
MANUAL DUAL-CLAMP VENTING BUTTERFLY VALVE
手动对夹式通风蝶阀,普遍适用于建材、玻璃、矿山、电力、轻工、造纸等行业的通风、环保工程等管道系统中。 对管道中气体介质按不同控制信号调节流量大小和切断。
This valve is widely used in the pipe system such as venting and environment protection in building material, glass, mining, power, light industry and papermaking departments. It can change the flow and cut off gas medium in the pipe by the different control signal.
结构特点:
Structure characteristic:
手动对夹式通风蝶阀 ,采用优质碳素钢焊接。具有重量轻、结构紧凑、流阻损失小、操作灵活、指示方位明确、维护方便、使用寿命长等优点 , 可任意安装,特别适合架空管道。配用蜗轮传动装置切换,开关轻松自如 , 任意调节阀门开度 , 是调节流量的理想设备。
The valve is welded in fine carbon steel, having the features of light weight, compact structure, endurance, little in the lost of flow resistance, definite direction, easy to maintenance and long life. It can be installed at any angle, especially suitable for aerial piping. The valve is used with worm gearing device to form a complete set to realize switching freely and adjusting open angle of valve arbitrarily. It is the ideal equipment of adjusting flow.
性能参数:
Performance parameter:
公称压力

Nominal pressure

介质流速

Medium velocity

泄漏率

Leakage ratio

适用温度

Suitable temperature

适用介质

Suitable medium

0.05MPa

≤ 25 m/s

≤ 1%

≤ 300 ℃

空气、烟气、粉尘气体等

Air, smoke, gas with powder etc
外形图:
Appearance figure: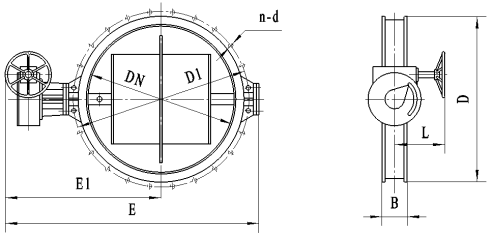 外形连接尺寸 :
Appearance joint dimensions:
| | | | | | | | |
| --- | --- | --- | --- | --- | --- | --- | --- |
| DN | D | D1 | B | n-d | E | E1 | L |
| 150 | 210 | 225 | 80 | 8- Φ 12 | 605 | 465 | 180 |
| 200 | 260 | 275 | 80 | 8- Φ 12 | 665 | 500 | 180 |
| 220 | 280 | 295 | 80 | 8- Φ 12 | 685 | 510 | 180 |
| 250 | 310 | 325 | 80 | 12- Φ 12 | 715 | 515 | 180 |
| 280 | 340 | 355 | 80 | 12- Φ 12 | 745 | 530 | 180 |
| 300 | 360 | 375 | 80 | 12- Φ 12 | 785 | 560 | 180 |
| 320 | 380 | 395 | 80 | 12- Φ 12 | 805 | 570 | 180 |
| 360 | 420 | 435 | 80 | 12- Φ 12 | 845 | 590 | 180 |
| 400 | 480 | 495 | 100 | 16- Φ 14 | 915 | 640 | 180 |
| 450 | 530 | 545 | 100 | 16- Φ 14 | 965 | 665 | 180 |
| 500 | 580 | 595 | 100 | 20- Φ 14 | 1015 | 690 | 180 |
| 560 | 640 | 655 | 100 | 20- Φ 14 | 1075 | 720 | 180 |
| 600 | 680 | 695 | 100 | 20- Φ 14 | 1125 | 750 | 180 |
| 630 | 710 | 725 | 100 | 20- Φ 14 | 1155 | 765 | 180 |
| 700 | 780 | 795 | 120 | 20- Φ 14 | 1275 | 850 | 250 |
| 800 | 880 | 895 | 120 | 24- Φ 14 | 1385 | 895 | 250 |
| 900 | 980 | 995 | 120 | 24- Φ 14 | 1485 | 945 | 250 |
| 1000 | 1100 | 1120 | 140 | 28- Φ 18 | 1525 | 930 | 250 |
| 1100 | 1200 | 1220 | 140 | 28- Φ 18 | 1625 | 980 | 250 |
| 1120 | 1220 | 1240 | 140 | 28- Φ 18 | 1645 | 1080 | 250 |
| 1200 | 1300 | 1320 | 140 | 28- Φ 18 | 1725 | 1035 | 250 |
| 1250 | 1350 | 1370 | 140 | 28- Φ 18 | 1775 | 1060 | 250 |
| 1300 | 1400 | 1420 | 140 | 32- Φ 18 | 1825 | 1080 | 250 |
| 1400 | 1500 | 1520 | 140 | 36- Φ 18 | 1925 | 1130 | 250 |
| 1500 | 1600 | 1620 | 140 | 36- Φ 18 | 2045 | 1200 | 250 |
| 1600 | 1700 | 1720 | 140 | 40- Φ 18 | 2145 | 1250 | 250 |
| 1700 | 1820 | 1840 | 160 | 40- Φ 18 | 2525 | 1580 | 300 |
| 1800 | 1920 | 1940 | 160 | 44- Φ 18 | 2625 | 1630 | 300 |
| 1900 | 2020 | 2040 | 160 | 44- Φ 18 | 2725 | 1680 | 300 |
| 2000 | 2120 | 2145 | 160 | 48- Φ 22 | 2825 | 1730 | 300 |
| 2100 | 2220 | 2245 | 180 | 48- Φ 22 | 2935 | 1790 | 300 |
| 2200 | 2320 | 2345 | 180 | 48- Φ 22 | 3035 | 1840 | 300 |
| 2300 | 2420 | 2445 | 180 | 48- Φ 22 | 3270 | 2025 | 350 |
| 2400 | 2520 | 2545 | 180 | 48- Φ 22 | 3370 | 2075 | 350 |