手动密闭闸阀
manual inserting disc valve
手动密闭闸阀是近年来综合使用插板阀的经验设计制造的,主要用于通风除尘、风力输送及排风系统管路上的调节和固体粉料输送的调节和切断。
This series valve is designed basing on the experience of using inserting disc valve. It is mainly used to regulate in pipes of venting removing dust, carrying, venting system and to regulate or cutting carrying of solid powder.
结构特点:
Structure characteristic:
采用优质钢材焊接而成,具有结构简单,操作自如,阀板滑动灵活,密闭性能优良等特点。局部阻力损失小,调节性能好,维护保养拆卸方便,不易变形,克服了老式插板阀漏风大、变形快、调节困难的毛病。特别适用于无粘度的固体粉料及小于 Φ 10mm 颗粒料、晶体料、固状物料的输送。
This valve is welded in fine steel and simple in structure, handy to operate, smooth to slide, good in seal. Especially it is less loss in local resistance, good regulation, convenient to replace and maintain, not distorted. It overcomes the defect of outdated inserting disc valve such as great leakage, distorting quickly and difficulty in regulating. It is suitable to transport non-glutinosity solid powder and grain, crystalloid, solid material less than 10mm.
性能参数:
Performance parameter:
公称压力

Nominal pressure

介质流速

Medium velocity

适用温度

Suitable temperature

适用介质

Suitable medium

0.05MPa

≤28m/s

≤300℃

空气、粉尘气体、固体粉料、晶体料

Air, gas with powder, solid powder, crystalloid
工作原理:
Working principle:
手动密闭闸阀主要由把手、阀体、插板、锁紧螺钉、密封装置等部件组成。运行时先松开锁紧螺钉,手握把手向外抽出,达到工况开启任意位置,然后拧紧锁紧螺钉,使插板停留在这一位置。反之则关闭插板阀(向内推进)。
The valve is mainly made up of handle, body, disc, locknut and seal etc. Loosen locknut and draw out the handle to open random position when operate. Then screw down locknut to make the disc settled in this position. Otherwise close disc.
使用说明:
Operation instruction:
• 本阀连接方式为法兰连接。
• 本阀可水平或垂直安装,安装时两法兰联接中间必须加密封垫片,然后均匀锁紧螺栓。
• 手动操作时向外抽出为开,向内推进为关。不得在把手上增加辅助器材。
• 若长期存放应使设备处于关闭状态,各传动部位应加润滑油,不允许露天存放或堆置。
• Joint type of this valve is flange joint.
• The valve can be installed in horizontal or vertical. Add seal cushion between two flanges connection and screw down bolt.
• Draw out handle means open and push in means close. Assistant lever can't be added to handle.
• Add lubricant to transmission part when valve is long stored. It should not be placed or piled up in the open air.
单向 --- Ⅰ外形图: 单向 -- Ⅱ外形图: 双向 --- Ⅰ外形图: 双向 --- Ⅱ
Appearance figure: Appearance figure: Appearance figure: Appearance figure: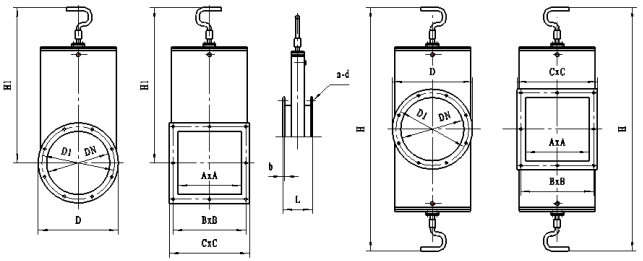 外形连接尺寸:
Appearance joint dimension:
DN

( A × A )

D1

( B × B )

D

( C × C )

b

L

n-d

H1

H

100

145

180

4

100

4- Ф 10

370




110

155

190

4

100

4- Ф 10

385




120

165

200

4

100

4- Ф 10

420




130

175

210

4

100

4- Ф 10

435




140

185

220

4

100

4- Ф 10

450




150

195

230

4

100

8- Ф 10

465




160

205

240

6

100

8- Ф 10

480




170

215

250

6

100

8- Ф 10

495




180

225

260

6

100

8- Ф 10

510




190

235

270

6

100

8- Ф 10

525




200

245

280

6

120

8- Ф 10

575




210

255

290

6

120

8- Ф 10

590




220

265

300

6

120

8- Ф 10

605




230

275

310

6

120

8- Ф 10

620




240

285

320

6

120

8- Ф 10

635




250

305

350

6

120

12- Ф 10

650




260

315

360

6

120

12- Ф 10

680




280

335

380

6

120

12- Ф 10

710




300

355

400

6

140

12- Ф 10

740




320

375

420

6

140

12- Ф 12

770




340

395

440

6

140

12- Ф 12

800




360

415

460

6

140

12- Ф 12

830

1040

380

435

480

6

140

12- Ф 12

860

1070

400

455

500

6

140

16- Ф 12

890

1110

420

475

520

6

160

16- Ф 12

940

1140

450

505

550

8

160

16- Ф 12

980

1210

480

535

580

8

160

16- Ф 12

1020

1270

490

545

590

8

160

16- Ф 12

1035

1290

500

555

600

8

160

20- Ф 14

1050

1310

530

585

630

8

160

20- Ф 14

1095

1370

560

615

660

8

160

20- Ф 14

1140

1400

600

655

700

8

180

20- Ф 14

1230

1510

700

755

800

8

180

20- Ф 14

1380

1710

800

855

900

10

180

24-Ф14

1580

1920