电液动平板闸门
Double-driving flat board valve
该系列电液动平板闸门是粉料、晶粒料、颗粒料的流量输送控制的主要设备。广泛适用于冶金、矿山、建材、粮食、化工等行业,是控制流量变化较大,启动频繁,切断迅速的理想设备。
This series valve is the main equipment to control flow transportation of powder, crystal and grain material. It is widely used in metallurgy, mining, building material, food and chemical industries etc. It is the ideal equipment of controlling great changing of flow, frequent starting up and quick cutting off.
结构特点
Structure characteristics
该产品具有结构简单,操作自如,密封性能优良,局部阻力损失小,切断快,维护保养方便,不易变形等特点。
The valve has the features of simple structure, free operating, good sealing, little in local resistance losing, quick cut-off, convenience in maintenance and hard to distortion etc.
性能参数:
Performance parameter:
公称压力

Nominal pressure

介质流速

Medium velocity

适用温度

Suitable temperature

适用介质

Suitable medium

0.05MPa

≤ 28m/s

≤ 300 ℃

空气、粉尘气体、固体粉料、晶体料

Air, gas with dust, solid powder, crystalloid
工作原理
Working principle:
双驱动平板阀主要由执行机构、阀体、插板、密封装置、行程开关等部件组成。运行时输出指令(电源或气源)给执行机构,由执行机构带动插板向外推出,达到工况需要位置,撞动行程开关停止,由行程开关反馈信号(开关信号)给控制室。反之则关闭插板阀(向内推进)。
The valve is mainly made up of actuator, body, disc, seal device and journey switch etc. Instruction is transmitted to the actuator. The actuator drives disc draw out to reach the requiring position and then bumps the journey switch to stop. Journey switch feeds back the signal to control room. Otherwise close disc.
使用说明:
Operation instruction:
• 本阀可水平或垂直安装,安装时两法兰连接中间必须加密封垫片,然后均匀锁紧螺栓。
• 手动操作时向外抽出为开,向内推进为关。不得在把手上增加辅助器材。
• 执行机构应按其使用说明正确接线与操作。
• 若长期存放应使设备处于关闭状态,各传动部位应加润滑油,不允许露天存放或堆置。
• The valve can be installed in horizontal or vertical. Add seal cushion between two flanges connection and screw down bolt.
• Draw out handle means open and push in means close. Assistant lever can't be added to handle.
• Actuator must be connected and operated exactly according to the operation instruction.
• Add lubricant to transmission part when valve is long stored. It should not be placed or piled up in the open air.
传动装置参数:
Transmission device parameter:
规格

Type

400~600

700~900

1000~1200

电动推杆

Electric draw stem

DT Ⅰ A63-M

P : 0.09KW

DT Ⅱ A100-M

P : 0.25KW

DT Ⅱ A250-M

P : 0.37KW

气动推杆

Pneumatic draw stem

10A-5TCC50B

10A-5TCC63B

10A-5TCC80B

电液推杆

Electric hydraulic

DYT100

P : 0.37KW

DYT300

P : 0.37KW
电动外形图: 电液动外形图: 气动外形图:
Appearance figure: Appearance figure: Appearance figure: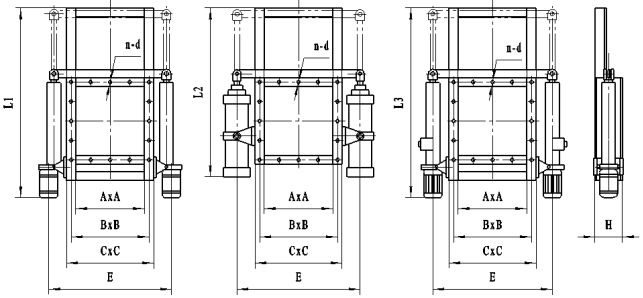 外形连接尺寸:
Appearance joint dimension
| | | | | | | | | |
| --- | --- | --- | --- | --- | --- | --- | --- | --- |
| A × A | B × B | C × C | L1 | L2 | L3 | H | E | n-d |
| 400 × 400 | 456 × 456 | 510 × 510 | 1075 | 1100 | 1285 | 120 | 800 | 12- Ф 14 |
| 500 × 500 | 560 × 560 | 620 × 620 | 1375 | 1300 | 1495 | 140 | 900 | 16- Ф 14 |
| 600 × 600 | 660 × 660 | 720 × 720 | 1845 | 1500 | 1965 | 140 | 1200 | 16- Ф 16 |
| 700 × 700 | 770 × 770 | 830 × 830 | 2045 | 1720 | 2175 | 140 | 1300 | 20- Ф 16 |
| 800 × 800 | 870 × 870 | 930 × 930 | 2245 | 1920 | 2375 | 160 | 1400 | 20- Ф 18 |
| 900 × 900 | 972 × 972 | 1040 × 1040 | 2445 | 2200 | 2585 | 180 | 1500 | 20- Ф 18 |
| 1000 × 1000 | 1074 × 1074 | 1140 × 1140 | 2655 | 2400 | 2785 | 180 | 1600 | 24- Ф 18 |
| 1100 × 1100 | 1180 × 1180 | 1250 × 1250 | 2898 | 2600 | 3150 | 200 | 2100 | 28- Ф 18 |
| 1200 × 1200 | 1280 × 1280 | 1350 × 1350 | 3100 | 2800 | 3350 | 200 | 2200 | 32- Ф 18 |