风机流量调节阀
AIR-BLOWER REGULATING VALVE
风机流量调节阀广泛适用于 建材、玻璃、矿山、电力、轻工、造纸等行业 的风机入口及通风管道,与风机配套使用,对管路中流量根据工况的不同需要进行调节,以满足管道工艺运行的需要。
This valve is widely used at the venting pipe and air-blower inlet in building material, glass, mining, power, light industry and papermaking departments. It is equipped with air-blower to adjust flow in pipe by the different working conditions and meet the demand of pipe technology operation.
结构特点:
Structure characteristic:
风机流量调节阀设计新颖、结构合理,调节板采用多叶、多轴式,使气流均匀分流,流阻小,启闭力矩小,动作灵活可靠,各传动部位采用润滑轴承,运转灵活,摩擦系数小调节轻松自如,能有效地控制气体流量,稳定风机的输出曲线,充分利用能源使工作系统达到最佳状态,是各种风管系统中理想的调节设备 。
The valve has the features of novel design and compact structure. Its regulating disc adopts multi-blade and multi-axle, which can shunt airflow. Flow resistance and open-close torque is little and operation is reliable. The lubricating bearing of transmission part is flexible on operation and handy of regulating with little coefficient of friction. It can control the airflow effectively and stabilize the output curve of air-blower and make the working system in optimal state by making full use of energy. It is the ideal regulating device in all kinds of air piping system.
性能参数:
Performance parameter:
公称压力

Nominal pressure

介质流速

Medium velocity

泄漏率

Leakage ratio

适用温度

Suitable temperature

适用介质

Suitable medium

0.05MPa

≤ 20 m/s

≤ 1.5%

≤ 300 ℃

空气、粉尘气体等

Air, gas with powder etc
外形图:
Appearance figure :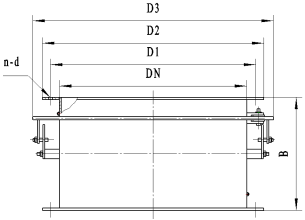 外形图:
Appearance figure :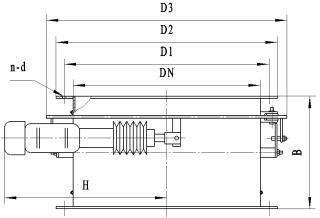 外形图: 外形 连接示意 图:
Appearance figure : Appearance figure :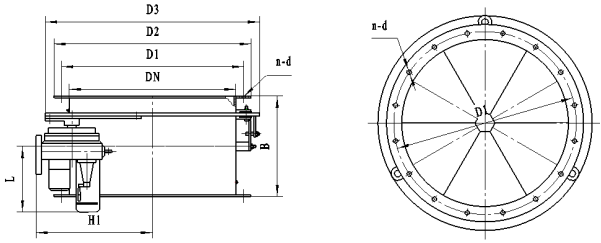 外形连接尺寸:
Appearance joint dimensions:
DN

D1

D2

D3

B

n-d

片数

H

H1

L

电 动 推 杆

电 动 执行器

280

306

324

480

250

8- Φ 10

4

695

305

380

DT Ⅱ A100-M

P : 0.37 KW

DKJ-210

T : 100N·m

P : 0.025KW

310

330

350

500

250

12- Φ 10

4

695

315

380

320

350

367

520

250

16- Φ 8

4

695

325

380

360

394

416

580

300

16- Φ 8

4

695

355

380

365

385

410

580

300

12- Φ 10

4

695

355

380

400

440

462

660

250

16- Φ 8

6

790

380

460

DT Ⅱ A300-M

P : 0.55 KW

DKJ-310

T : 250N·m

P : 0.065KW

420

445

470

650

250

16- Φ 10

6

790

385

460

450

490

512

700

250

16- Φ 10

6

790

405

460

470

495

520

720

300

16- Φ 10

6

790

415

460

500

550

572

780

300

16- Φ 10

6

790

445

460

520

545

570

800

300

16- Φ 10

6

790

455

460

600

650

576

880

300

16- Φ 10

8

900

495

510

DT Ⅱ A500-M

P : 0.75 KW

DKJ-410

T : 600N·m

P : 0.16KW

620

650

685

900

300

16- Φ 10

8

900

510

510

800

860

910

1150

350

12- Φ 12

8

900

635

510

1000

1065

1110

1350

350

16- Φ 14

12

900

735

510

1200

1270

1330

1580

350

12- Φ 14

12

1030

850

650

DT Ⅱ A700-M

P:0.75 KW

DKJ-510

T : 1600N·m

P : 0.4KW

1600

1660

1700

2000

400

28- Φ 14

16

1030

1070

650

2000

2070

2120

2420

450

32- Φ 14

16

1030

1280

650